Je-LKS: Online il numero 1, Vol. 14 del 2018: "New Trends, Challenges and Perspectives on Healthcare Cognitive Computing: from Information Extraction to Healthcare Analytics"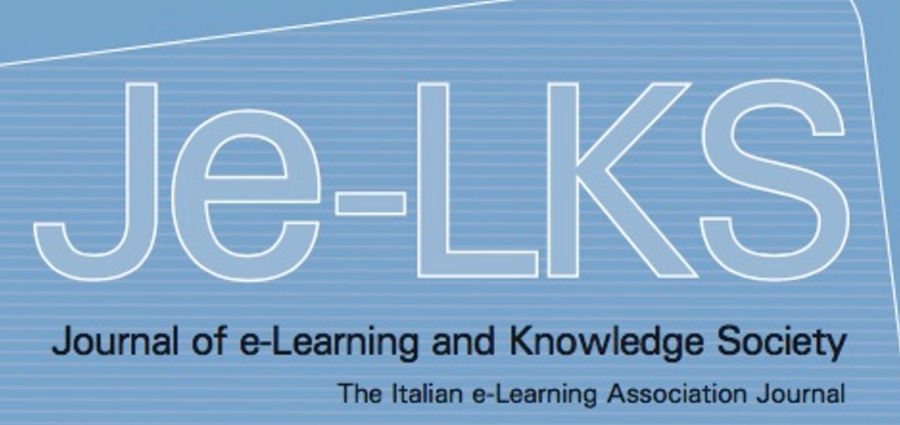 Siamo lieti di informarvi che è online il No. 1, Vol. 14 (2018) del Journal of e-Learning and Knowledge Society (Je-LKS). Come sempre l'accesso a tutti i numeri di Je-LKS è APERTO e GRATUITO e potete consultare l'ultimo numero al seguente URL: www.je-lks.org

Puoi sempre avere accesso aperto e gratuito alle pubblicazioni di Je-LKS ma se desideri avere copie cartacee da condividere con studenti o colleghi o se desideri realizzare un archivio dei numeri orginali ti invitiamo a sottoscrivere il servizio Printed Copies che ci consentirà di coprire parzialmente i costi del servizio. La nostra rivista NON chiede contributi di pubblicazione agli autori.
Inoltre considera l'ipotesi di aderire alla Sie-L per supportare ulteriormente le nostre attività.
Se sei un ricercatore nelle aree di interesse di Je-LKS sei benvenuto a inviare una proposta di contributo a Je-LKS.
In questo numero:
Editorial
Mauro Coccoli, Paolo Maresca, Gabriella Tognola

Peer Reviewed Papers
Handling Negation to Improve Information Retrieval from French Clinical Reports
Baya Naouel Barigou, Fatiha Barigou, Baghdad Atmani

A Context-Aware Miner for Medical Processes
Luca Canensi, Giorgio Leonardi, Stefania Montani, Paolo Terenziani

Integrating Heterogeneous Data of Healthcare Devices to enable Domain Data Management
Antonella Carbonaro, Filippo Piccinini, Roberto Reda

Adopting Cognitive Computing Solutions in Healthcare
Mauro Coccoli, Paolo Maresca

Preliminary Data Analysis in Healthcare Multicentric Data Mining: a Privacy-preserving Distributed Approach
Andrea Damiani, Carlotta Masciocchi, Luca Boldrini, Roberto Gatta, Nicola Dinapoli, Jacopo Lenkowicz, Giuditta Chiloiro, Maria Antonietta Gambacorta, Luca Tagliaferri, Rosa Autorino, Monica Maria Pagliara, Maria Antonietta Blasi, Johan van Soest, Andre Dekker, Vincenzo Valentini

Evaluating Innovation Injection into Educational Contexts
Francesca Pozzi, Donatella Persico, Luigi Sarti

Conversational Functions for Knowledge Building: a Study of an Online Course at University
Stefano Cacciamani, Vittore Perrucci, Ahmad Khanlari

Mobile Applications in University Education: the case of Kenya
Ronald Ochieng Ojino, Luisa Mich

Analysing Accessibility, Usability and Readability of Web-based Learning Materials – Case study of e-learning portals in Slovenia
Marko Radovan, Mojca Perdih